By Lane Brown, Vice-Chair, National Alumni Board
The National Alumni Board (NAB) and your fellow mountaineering alumni are sending you a virtual care package this summer! It's been a treat to connect with alumni from multiple decades in preparation for the Mountaineering Reunion, which will now take place August 22-28, 2021.
The effort to organize the reunion, as well as regional alumni events, is led by members of the NAB, a group of dedicated volunteers who have the mission of staying connected with alumni and making sure the blessings of your Adventure Unlimited experience stay with you always.
Here are some ways we've put together for you to stay connected with the A/U Ranches and your fellow mountaineering alumni.
We've got the gear
We're excited to offer an A/U Ranches exclusive mountaineering buff for $25. These are perfect for adventures in the hills, or as we have experienced lately, an adventure to the grocery store! All proceeds from the sale of these neck wraps will help fund the mountaineering program. Limited quantity available – order today!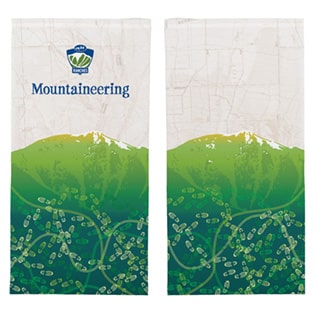 Track your Trek
Through Labor Day (September 7), track your miles hiked, biked, run or climbed. The top trekker will earn an A/U Ranches sweatshirt of their own! You can record them any of these three ways:
Track Your Trek PDF download
(submit to [email protected])
A/U Ranches Alumni Strava Team
Lead an alumni event
Until we're together again, we encourage alumni to get together in their own areas while adhering to all local health guidelines. If you're interested in hosting a hike, bike, climb or run in your area, fill out this form and someone from our National Alumni Board will be in touch to help you put together a safe gathering near you.
Stay involved
As always, alumni are encouraged to stay involved in multiple ways outside of gatherings at the A/U Ranches. You, your family and friends are welcome to participate in many fun and inspirational local, regional and national DiscoveryBound (DB) Outreach events. Or come join us for an exciting and uplifting getaway at any of our A/U Ranches programs.
DB 20s/30s
DB Events Calendar
A/U Ranches Family & Friends Getaway
A/U Ranches Adult Mini Camp
Looking for other ways to help? We have a number of opportunities for volunteer support at the A/U Ranches throughout the year and at DiscoveryBound events around the country.
Alumni on social media
Another way to stay in touch is to find us on social media! Join the A/U-DB Alumni Facebook Group and follow the @audb_alumni Instagram account. Have an image to share with fellow alumni? Send it to [email protected]. We'll even kick off your social sharing with a challenge: Send us a picture of you donning the OLDEST piece of camping gear in your pack!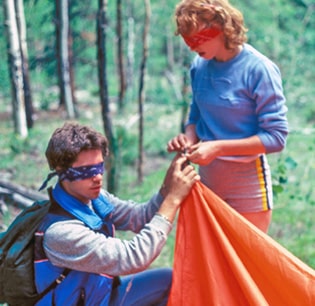 Stay tuned to these channels for updates about the 2021 reunion.
On behalf of the Mountaineering Reunion planning committee, we are so happy to be connected with you and to share in the joy of the A/U Ranches, both when we're together and apart! Don't hesitate to reach out to [email protected]limited.org with questions and feedback. We'd love to hear from you.