In the last several years, Adventure Unlimited has prioritized valuing 20s/30s adults through opportunities in participation, employment and volunteering. As a result, these adults have been engaging in new and meaningful ways that are helping nurture their spiritual, personal and professional growth. Two of those adults who have found meaningful ways to stay involved with the A/U Ranches and DiscoveryBound beyond their teenage years are Andrew Lambert-Cole and Emily Mattson.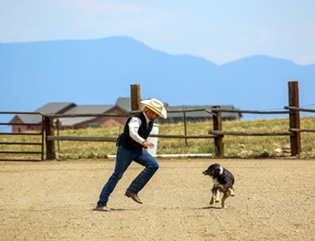 "The next generation of Christian Scientists deserve all the support they can get"
Taking the track of becoming a CIT (counselor-in-training) and then spending every college summer as a staff member at the A/U Ranches, Andrew Lambert-Cole has since found an abundance of ways to stay engaged with Adventure Unlimited. 
He accepted the position of a Youth Camp director during his senior year of college and returned for two more years. "I loved every summer," he says.
Andrew has also volunteered as a chaperone for DiscoveryBound (DB) events and hosted camp shows around the country. "That was really neat to… show how camp is essential to supporting the Christian Science movement," he says. "Advocating for camp was so important, and it felt purposeful to be able to show how accessible camp is to everyone."
As a year-round resident at the A/U Ranches, Andrew also stays engaged with the fall programs working for the 100 Elk Outdoor Center, a secular education program offered at the A/U Ranches. He says it has been a "cool way to show that the service we give as Christian Scientists is never limited to just Christian Scientists – it can be broadened out to the wider community."
Choosing to stay involved with Adventure Unlimited as a 20-something is different for everyone, and Andrew is clear on why he does it. "I know what Christian Science has done for me in my life, and how I've interacted with the camps when I was younger, and it made me the person who I am today," he says. "Because I continue to serve in these capacities and try to take those opportunities, my understanding in Christian Science and desire to stay in Christian Science has really been supported. The next generation of Christian Scientists deserve all the support they can get, and if I can do a little bit to help out… that is why I've stayed involved.
"Adventure Unlimited provides opportunities for service, and taking those opportunities has solidified my desire to apply Christian Science more actively in my life."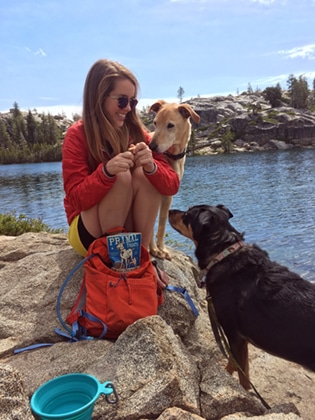 "Christian Science in your 20s and 30s doesn't have to look the same for every person"
Like Andrew, Emily Mattson has been all in at Adventure Unlimited. She grew up attending DB Outreach events, is a graduate of the DB National Leadership Council (NLC) and was an A/U Ranches camper and staff member. After graduating from Principia College, she and her fellow 2010 NLC classmate, Kynan Witters Hicks, launched the NLC Alumni Initiative. 
For the past two summers, Emily has been a Christian Science nurse for Youth Camp and the first week of staff training at the A/U Ranches. This work has put her in a position to learn from the conversations and connections with other staff members. 
"As people enter and navigate adulthood, I think there's such value in talking to other people who are navigating Christian Science in a modern adult world and finding that Christian Science in your 20s and 30s doesn't have to look the same for every person," Emily says. "I feel like being in these situations, social events and adventures with other people our age solidifies my own understanding. I'm surrounded by people who are figuring out their place in the movement, and as we have discussion about our own study, we're very candid about the fact that there is more growth to be had each step of the way."
Emily's presence at camp also allowed her to share her NLC experience with eighth-graders who were interested in the program. She loved the opportunity to be a mentor to youth and "spread the word about how great the NLC program is," she says.
The A/U Ranches is "ready to meet people where they are," Emily says, which is something she loves about it. "I really appreciate that [the full-time staff] are ready to nurture people along that journey [without] changing their ideals at all or making any loopholes… [they're] still holding every single [seasonal] staff member up to this high standard, but letting people come and prove that for themselves."
Want to get involved with the DiscoveryBound 20s/30s program? Learn more