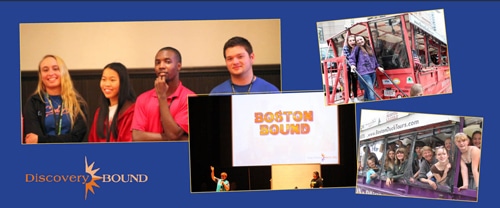 DiscoveryBound Outreach – Boston Bound
DiscoveryBound Outreach "reaches out" beyond Camp and Church to invite those of all faiths to DB Local Chapter, Regional and National events. We welcomed 77 teens from around the United States to an event in Boston over Memorial Day weekend. In addition, approximately 30 adults, many alumni, supported the weekend in staff or volunteer roles.
Laurie Scott, C.S. facilitated a group discussion focused on the weekend's metaphysical theme: "The 'still, small voice' of scientific thought reaches over continent and ocean to the globe's remotest bound." (SH 559:8-10). 
Highlights of the event included:
Meeting with the Christian Science Board of Directors to learn about their role in the church and how to pray about certain situations
Workshops at The Mother Church on a variety of topics – Christian Science Practice and Nursing, Christian Science Organizations (CSOs), Reading the Bible Lesson, Writing for the Periodicals, and praying with the Christian Science Monitor
An interactive and exploratory tour of the original church edifice and extension
Riding the "T" to Chestnut Hill for activities at the Longyear Museum and a tour of Mrs. Eddy's Beacon Street home.
Presentations and tours at the Mary Baker Eddy Library
TMC Youth led program looking at the global presence of Christian Science
Organ recital by Bryan Ashley, The Mother Church organist
Boston Duck Tours
DB's Boston Bound event is held every few years. The next DB Outreach national event will take place in San Francisco in 2015. This Fall four Teen Regionals and two Family Regionals are planned, in addition to numerous Chapter events. Check out the DiscoveryBound website for more details!
Questions?
If you would like to learn more about volunteer opportunities, or if you have questions about the DiscoveryBound Outreach program, we'd love to hear from you: call 888.416.7348 x137 or email us.