Anyone who has been a counselor at the A/U Ranches knows the hard and soft skills that are necessary to ensure a harmonious, safe and fun-packed experience for campers. But communicating the value of those skills on a resume to potential employers can be a challenge.
To serve this community as it searches for fulfilling employment post-camp, Adventure Unlimited has partnered with The Albert Baker Fund and its ABF Career Alliance.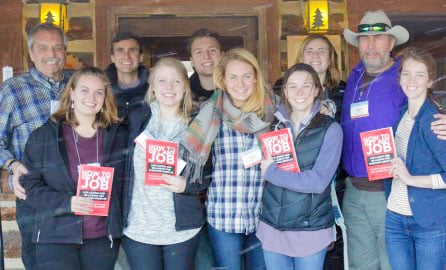 The Alliance was launched to build a career community that connects Christian Scientists (and those friendly to Christian Science) both with each other and with job opportunities and internships, professional networking, informational interviewing, career mentoring and career events. In addition, an online job board is available to employers — Christian Scientists and/or their networks — for posting open positions.
"Connecting with A/U Ranches camp counselors and alumni as they make life decisions about their careers is one of the most exciting and rewarding aspects of my work," says Robin Glenn Jones, career coordinator for The Albert Baker Fund (ABF) Career Alliance. "Camp is the experience of a lifetime, and the lessons of that experience have profound value."
Robin, along with ABF's outreach director, Harve Kaufmann, hosted breakout sessions during the Career Networking Connection Hub at last summer's 60th Reunion at the A/U Ranches. Their partnership in helping to plan what the Hub offered alumni brought these services to attendees over the weekend.
"I believe there is no better preparation for success in the world of work than the leadership experiences, insights and spiritual growth that take place in the cabins, on the trails, at the lake, and in camp Sunday School at the A/U Ranches," Robin says. "My role enables me to help camp staffers recognize and articulate the career value of the skills they gain from their camp experience. This recognition really boosts their confidence and ability to present themselves as professionals."
What the Alliance does for the Christian Science community
Job seekers and employers alike have opportunities to find the work or employees they need through the ABF Career Alliance. Here are some benefits to alumni looking for a position:
Help identifying the skills and experience gained at camp and how to use that to their advantage in their job search – on resumes and in interviews
Tips on how to line up career connections that will help staffers advance their job search while at camp
Access to online job search resources such as resumes, cover letters, informational interviews, a LifeLaunch! certification course and more
A video, "From Camp Counselor to Facebook Design Program Manager and Beyond," which gives camp counselors a real-life example of how their camp experience prepares them for some of today's most desirable jobs
For alumni established in their profession who want to help Christian Science job seekers, the Alliance offers an opportunity to "Be the connection" for others as a career ally by posting a one-to-one career connection, an open position or an internship.
Getting the job
After several years of searching for his career path, Nate Toutjian is now an art teacher at Oakland's Castlemont High School, where he teaches students who are new to this country and have endured great hardship to be here. Nate attended the Career Alliance launch event in Los Angeles last year, which he says "was like a big beacon of hope."
"Those were two things I really wanted: a career, and some allies to help me get there!" he explains. "And Christian Science allies on top of it – that was an extra blanket of comfort after having recently come back to Science. I flew home with an open mind and the recognition that my path was set and I was following the right steps. As I continued to listen and pray, the idea of teaching art became more and more clear to me. I applied for a teaching job at the school in my neighborhood and was hired almost immediately to take over someone's class mid-year. I love what I do and I go to work every day, happy. I have the ABF Career Alliance to thank for that."
Madison Jones is now an associate producer for a top Chicago media agency, but she had no personal network and no professional experience when she moved 2,000 miles from home after graduating from college in 2013. "The ABF Career Alliance taught me how to feel comfortable having a conversation about my job search and asking for referrals," Madison says. "A seemingly random conversation with someone I didn't know led to a four-month internship at a casting agency, and that experience enabled me to land the job I have today."
In addition to supporting alumni of the A/U Ranches, the ABF Career Alliance is available to help make meaningful career connections for alumni of DiscoveryBound's National Leadership Council (NLC), Outreach, and Compass programs; friends of Adventure Unlimited; and the entire Christian Science community. To date, more than 700 job seekers have registered with the Career Alliance, including the majority of the 2016 A/U Ranches summer seasonal staff.
If you or someone you know is looking for work, check out or tell them about the job opportunities and resources in the Career Alliance. If you or someone you know could help others by sharing information from your own careers, you can sign up to be a career ally. To get started, contact Robin Glenn Jones at [email protected] or visit abfcareeralliance.org.